We provide dependable, clean, and expert electrical services
Satisfying a diverse variety of clients and customers since 1986 in Somerset, Mercer, Hunterdon, Middlesex, Union County, and surrounding areas.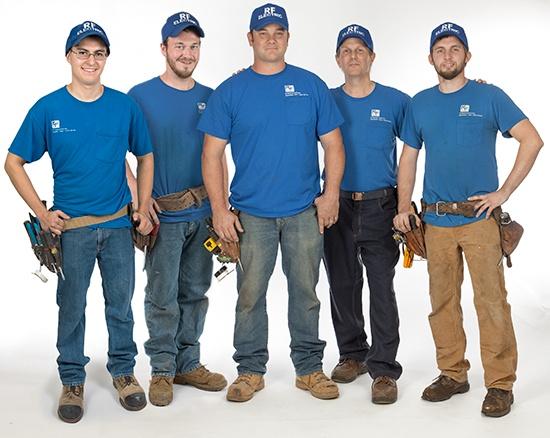 RF-Electrical Contracting Installation Team of Professionals

Whether we are installing a light switch in a cozy bedroom, or keeping business owners at ease with our generator backup system installations.
We have and continue to uphold our promise of expert and reliable services. We provide our electrical services to residential, commercial, and light industrial clients across Somerset, Mercer, Hunterdon, Middlesex, Union County and surrounding area's. Residential services range from renovations and additions to historic restoration and new construction.
Whatever the job, our crew at RF-Electric can and will get the job done right. Our team members have been working with us for many years, and have gained much experience along a wide spectrum of electrical technologies. Our clients love our staff and many have stayed with us for many years; most have utilized us even when building or purchasing a new home.
Behind the scenes, inside service panels, behind outlets, lights, and deep inside walls, we take no shortcuts and we cut no corners.
This is a must in order to ensure the integrity of the buildings we service, and the safety and satisfaction of our customers. Supplying excellent, safe, and quality service at a reasonable cost is our practice; and we have been practicing for many years. We are sure you will be pleased with our services and look forward to bringing our passion for excellent services into your homes, buildings, and light industrial settings.
See our Team Members Our Electrical Team of Profesional Electricians
"My father always told me, 'Your Company is only as good as the people that work for you.' Throughout my twenty-eight years in business, my father's words have held true. Through trial and error, I have assembled a reliable, hard-working, and highly skilled team of electricians; they have proven their worth time and time again." - Russell Frank (Owner and Founder of RF Electric) Our pricing is competitive with other high-quality contractors. Supplying good quality service at a reasonable price is our practice. If you require any further information (including referrals), feel free to contact us directly via the Contact tab at the top of your this page.
We look forward to helping you build a wonderful home. Equipment Here at RF Electric, our trucks are filled to the brim with a wide variety of tools, devices, and other various equipment necessary to get the job done right. From Hilti Hammer-Drills to pipe benders and an onboard temporary power supply we have everything on hand to maximize the efficiency of our team members.
Whether we're hammering, torquing, stripping, or splicing we have the proper equipment to get the job done.